Qalyptus March 2020
We are happy to announce the release of the Qalyptus March 2021 version. This new version comes with many new features, improvements, bug fixes, and a new design. Here are the new features of this version:
1- Run a task in Parallel or Serial
Now you can control how each task will run: Parallel or Serial. When you choose Parallel, the task can run simultaneously with other tasks.
If you choose Serial, the task will run separately from other tasks. If a serial task is running, the tasks that run after it will be in the queue. If a serial task is executed when other tasks are running, it is queued until all the tasks are completed.
The type of execution (Parallel / Series) is an option of the schedule.
2- Set the priority of a task
To give you more control over the tasks' execution, we introduced the possibility to set a priority level for each task. You can set a priority from 1 to 100.
You can choose the priority level in:
Schedules: Schedule used to perform report publishing tasks.
On-demand requests: Report generation with the Qalyptus On-Demand extension and API requests.
Subscription tasks: Subscriptions using the Qalyptus Notify extension and subscription to reports from Qalyptus Hub
3- Send a notification after task execution
It is now possible to send an email notification at the end of a task to inform people of the task's status; the task ended with errors, warnings, or success. The log file of the task is attached to the email.
For each task, you can choose which status you want to send a notification for and the recipients.
4- Choose how to distribute each report in the task
For more flexibility, you can now choose for each report added to a task how do you want to distribute it:
Save to folder
Publish to Qalyptus Hub
Email attachment
Email embedment (for HTML reports)
Now, you can choose the reports to attach to the email.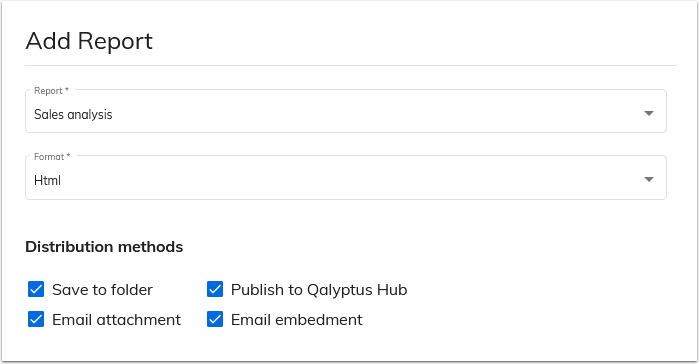 5- Improvements for HTML reports embedded in emails
To embed an HTML report in an email, you need to add the report to the task reports lists. This will allow you to:
Apply conditions to the report: Generate the report only if conditions are verified.
Support the Iteration report with a user filter: Each user will see the HTML report filtered with his email or domain account in the email body.
6- Add SMTP activity logs
Now, a log file is generated for each email sent by Qalyptus. In this file, you can see the status of the SMTP activity. If you don't receive an email sent by Qalyptus, you can check the log file to understand why.
In the task log, you see the path to the folder that contains the email log files.
7- Use the Qalyptus Server engine to create connections and generated reports in Qalyptus Desktop
We added the possibility to use the Qalyptus Server engine to create connections and generate reports on Qalyptus Desktop.
This feature allows you to use the Qalyptus Server machine's resources (RAM and CPU) to generate your reports with Qalyptus Desktop. If you want to work with a large Qlik Sense app, we recommend that you activate this option and use the Qalyptus Server machine's resources instead of your PC resources.
When you use this option, you don't need to install the Qlik Sense certificates in the machine where Qalyptus Desktop is installed.
To activate this option, go to Settings > My Account and check Use Qalyptus Server Engine.
8- Improvements and bug fixes
Text color and background color in email messages are now supported for Outlook.
An explicit message is shown if you try to publish a Qalyptus Server project without entering your Qalyptus Server address in Settings.

When trying to export an object, Qalyptus will ignore it instead of throwing an error if the object does not contain data.

Fix bug: On-demand report cannot be downloaded if the report contains a dynamic name.

Fixed minor bugs that can occur during the task execution.

Fix an error that occurs

when running a task after opening a project from the .qtr file.
Qalyptus Server Business is limited to 251 users.
Performance improvement.