Send Qlik Sense Report by Email
"I want to send a Qlik Sense report (PDF, Excel, Word, PowerPoint, and HTML) by email to my users." This is a very recurring request.
Qlik Sense is an analytics platform that offers many possibilities and flexibility to analyze a large amount of data. However, when you need to generate and distribute reports by email to users automatically, Qlik Sense can't do it!
1- The solution 😀

The only easy way to create and send reports automatically is to use third-party solutions. These solutions will allow you to create customized reports with your existing Qlik Sense applications.
Qlik offers an additional product for creating and delivering reports called Qlik NPrinting. This product is sold separately.
In this article, I will tell you about Qalyptus. Qalyptus is a complete Reporting solution for Qlik Sense and QlikView.
2- How Qalyptus works

Qalyptus is independent software installed on the same machine as Qlik Sense or on a separate machine.
The use of Qalyptus is very simple and goes through three main stages:

– Create a connection between Qalyptus and Qlik Sense
Qalyptus retrieves all the metadata from your Qlik Sense application (objects id, list of variables, list of fields and bookmarks, etc.) to be able to design custom report templates. Note that you can create a report using the visualizations (charts and tables) of several Qlik Sense applications.
– Create report templates with Excel, Word, PowerPoint, or HTML
Qalyptus allows you to use your favorite tools to create custom report templates by placing your Qlik Sense charts and tables the way you want in Excel, Word, PowerPoint, and HTML. Take advantage of all the features offered by the Office suite to create ultra-personalized templates.
You will see your Qlik Sense objects in the Qalyptus template editor. Just drag and drop them into the file.
– Generate and distribute reports to recipients
Once the report templates are ready, schedule the generation and distribute the reports to your recipients in different formats: PDF, Excel, Word, PowerPoint, or HTML.
Reports can be distributed by email, saved in folders, saved on a remote server via FTP, ..etc.
Besides sending the reports as an attachment, you can also embed a report in the email message, as you can see below.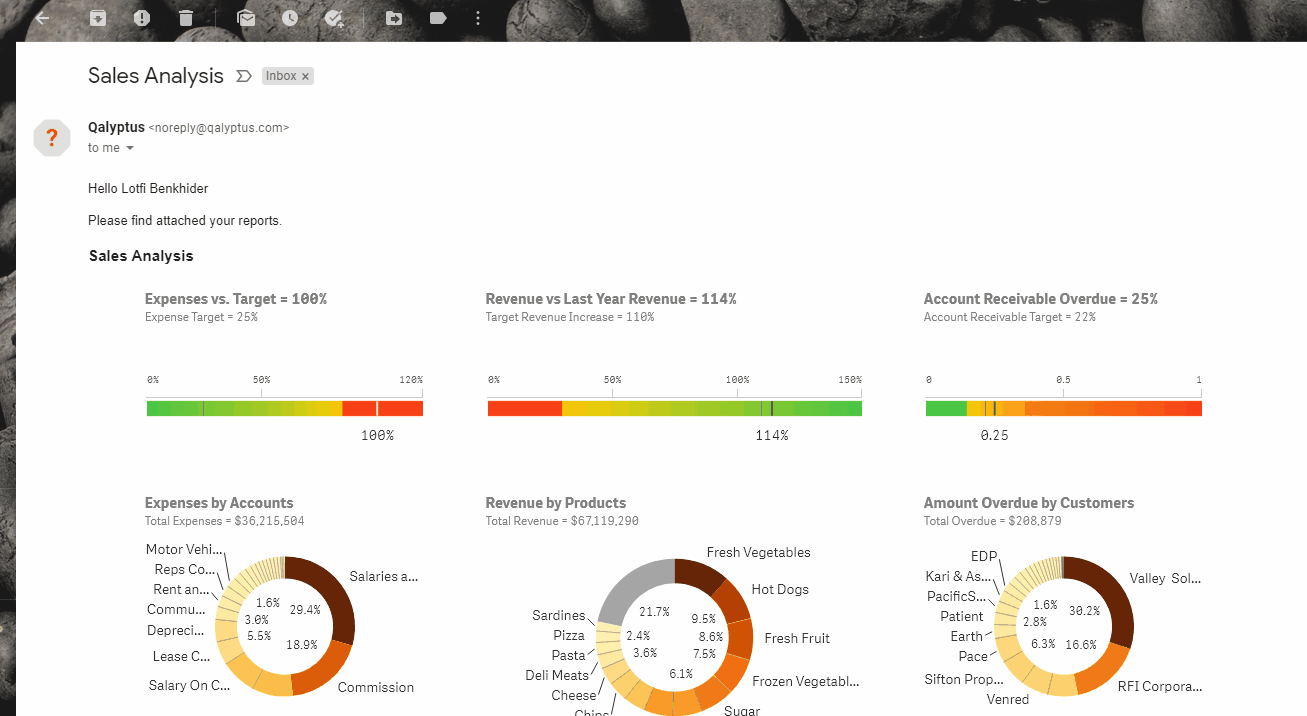 Depending on your need, Qalyptus can send reports by email to your users in different ways.
3- Send the same report to different recipients
The most common and easiest case is to send a report to a set of users. Example: send a PDF sales report for all salespeople.
Based on your Qlik Sense application that contains your company's sales data, Qalyptus will generate and send a PDF report that contains the charts and tables from your Qlik Sense application. The report sent will be the same for all recipients.
In Qalyptus, you can send your reports whenever you want, thanks to creating schedules with rich options. You can also condition the sending of your reports. For example, do not send a report if one or more charts do not contain data.
4- Send the same report with different data for each recipient
It is also possible to send the same report but with different data for each recipient. Qalyptus can, for example, send a PDF sales report for each salesperson. Each salesperson will receive a report containing only the sales of his scope.
For example, you can imagine more complex scenarios: Simultaneously, send each salesperson a report with the data of his scope and send to his manager a report that contains the sales data of all the salespeople for which he is responsible.
5- Give users the possibility to subscribe to receive reports
The generation and sending of reports to Qalyptus are achieved by creating distribution tasks with schedules. It is also possible to give your users the option of subscribing themselves to receive reports in their inbox at the frequency of their choice.
Users can choose to subscribe to reports that you designed with Qalyptus or subscribe to receive a snapshot of a sheet or an entire Qlik Sense application.
By integrating Qalyptus with Qlik Sense you will have a complete Business Intelligence environment. Users who need to analyze data can do so very easily and intuitively in Qlik Sense.

Users who wish to receive PDF reports on a regular basis in their inbox can rely on Qalyptus.