Qlik Sense Business or Qlik Sense Enterprise, which one is most suitable for you?
In this article, I will show you concretely the advantages of Qlik Sense Enterprise to let you know if these advantages are important for your company or not.
The purpose of this article is to help you choose the most suitable edition for your needs so that you do not have an undersized or oversized configuration concerning your data analysis needs.
My approach to realizing which version is the most suitable for you is to detail the important features present in Qlik Sense Enterprise (QSE). If you find at least one feature offered only by QSE essential for you, you should choose Qlik Sense Enterprise.
1. Common features
Both versions share the same corp functionalities for loading and cleaning data and creating visualizations (tables and graphs). In the image below, you can see that most of the features are present in Qlik Sense Enterprise and Qlik Sense Business.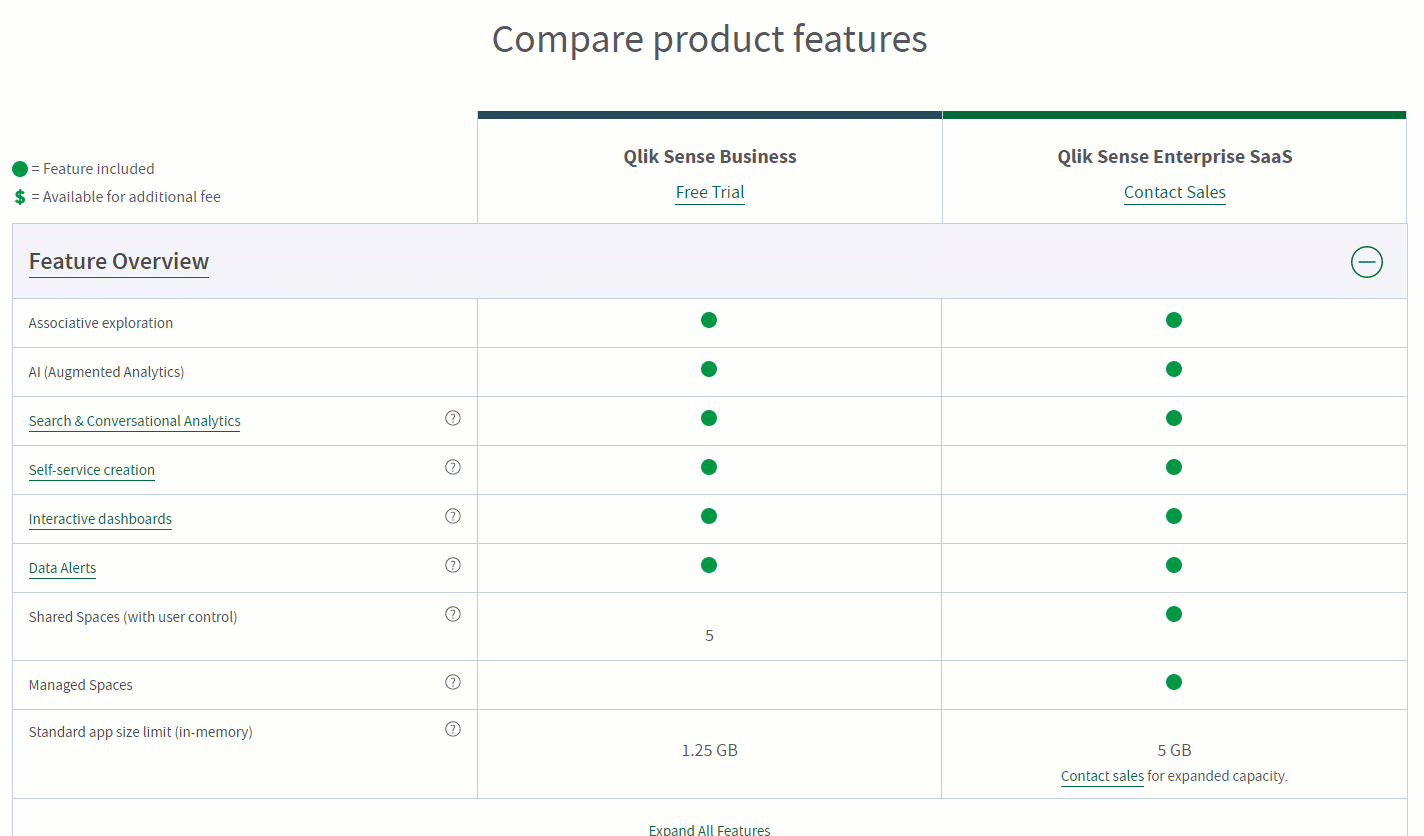 Image source: qlik.com
The main differences are in governance and processing capabilities. At the time of writing this article, the monthly pricing and the deployment capacity are as follows:
Qlik Sense Business
Qlik Sense Enterprise
Pricing
Unique pricing: $30/user
Professional $70/user

Analyzer $40/user

Capacity analyzer $100/user

Deployment capacity
App size limit ( memory )
1.25 GB
2.5 GB and up
SAAS home region
250 GB
500 GB and above
Scheduled data reload  concurrency
3
5 and above
Scheduled data reloads per day
50
100 and above
2. Qlik Sense Enterprise advantages
2-1. Use your IdP
In QSE, it is possible to use your Identity Provider to authenticate users and automatically add in Qlik Sense the users and groups present in the Identity Provider.
Qlik Sense supports most Identity Providers (Auth0, Okta, Onelogin, …).
Its configuration is simple, and you can configure several IdPs, but you can activate only one at a time.
2-2. JWT authentication
Qlik Sense allows using JWT (JSON Web Tokens) for authentication. This authentication mode authenticates users in applications external to Qlik Sense, such as Mashups or internal applications that integrate Qlik Sense charts.
This authentication mode has the advantage of authenticating the user without redirecting him to the Qlik login page or your IdP (if you have configured it). This provides a better experience for the user.
2-3. Managed spaces
Qlik Sense Business provides five shared spaces with user control, whereas Qlik Sense Enterprise supports unlimited shared spaces. The business version does not support managed spaces. In the enterprise edition, there is unlimited support for managed spaces too.
Managed spaces provide governed access with strict assessment control for the app and the app data. Different permissions can be assigned to a user:
Can manage: can manage the space and its members.
Can publish: can publish apps to the space. They cannot open apps in the space.
Can contribute: can view and open apps in the space. Contributors can create private content in the app and make that content public.
Can view: can view and open apps in the space.
Can consume data: can consume data sources but cannot create or edit data sources.
2-4. Qlik Application Automation™
Qlik Application Automation (QAA), is a feature that allows you to create dynamic processes that automatically respond to business events and trigger informed actions to your most popular SaaS applications such as your CRM or storage service like Dropbox or Google Drive.
To create the process, you have several blocks that correspond to internal Qlik services or external SaaS applications that you can chain together. Conditional blocks exist to perform an action depending on the result of the previous action.
Here is a simple example of automation:
Refresh a Qlik Sense app; if the refresh is completed successfully, send a confirmation message via Slack; if the refresh is completed with errors, send a message and the log file via Slack to the developers.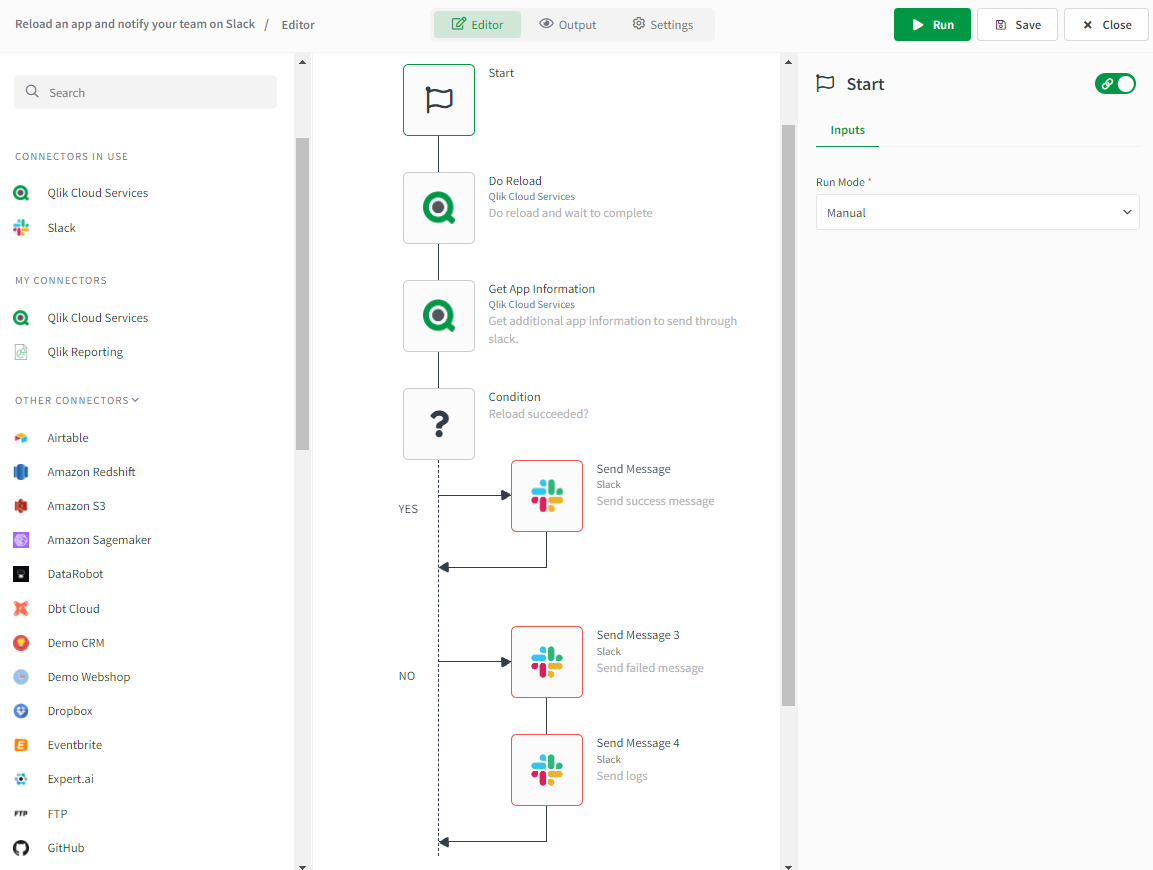 2-5. Reporting Service
Qlik Reporting Service is a value-added service entitled through a tiered model. It is integrated into Qlik Application Automation and can create and distribute reports in PDF formats.
The service is very limited because it allows you to create a report in PDF format by creating a snapshot of your existing sheets.
So, you can only export the charts and tables as images and in the same design as in the Qlik Sense sheet. If you have a table with many rows, only visible rows will be added to the report file in the image format.
The service is not fully included in the cost of your license; only 100 reports/month are included.
For example, if a sales app needs to send a daily report to 12 agents, you need to generate 12 * 20 (working day in a month) = 240 reports. In this case, you will pay for the 140 other reports.
Qalyptus, an alternative to Reporting Service
Qalyptus Cloud is a Reporting solution that allows you to generate personalized reports from Qlik Sense in all standard formats: PDF, Excel, PowerPoint, Word, CSV, HTML, etc.
Qalyptus integrates Office tools (Excel, Word, and PowerPoint) to use the Office features to design your reports with high flexibility.
Learn more about Qalyptus Cloud and try it for free.
2-6.Connectors
Qlik Sense SaaS contains the most used connectors to load data into Qlik Sense. The majority of the connectors are available for the two editions of Qlik Sense SaaS, but some of them are only available for Qlik Sense Enterprise. There is a detailed list of the supported connectors where you can see if a connector is available for Qlik Sese Business or only for Qlik Sense Enterprise.
2-7. Multi-cloud with Qlik Sense Enterprise on Windows on-premises
For different reasons, some companies need to keep sensitive data on their infrastructure. In this case, you can install Qlik Sense Enterprise for Windows on your machines and use Qlik Sense Enterprise on the cloud with the same license.
This configuration allows you to have a part of your data locally and the other on the cloud.
To set up this configuration, you must have an Identity Provider; because you need to authenticate the user within the same mechanism.
Image source: help.qlik.com
2-8. Forts
Another way to have a hybrid configuration is to use Qlik Forts. Qlik Forts allows you to use Qlik Sense SaaS by keeping your Qlik Sese application saved on your servers.
Qlik offers this option because your data are not only stored on your database but also other Qlik Sense application files (.qvf).
Note that this feature is in its first version and has some limitations.
If I summarize the difference between Qlik Sense Enterprise (QSE) and Qlik Sense Business (QSB), it would be: 1) Qlik Sense Enterprise shares the same basic features with Qlik Sense Business and integrates other features, 2) Some common features have more capabilities in QSE compared to QSB, 3) QSB is relatively cheaper than QSE :(.