Qalyptus March 2022
We are happy to announce the release of the Qalyptus March 2022 version. This new version comes with new features, improvements, and bug fixes. Here are the features of this version:
1- Automatically delete old log files
Before this version, you need to manually delete the log files generated by the Qalyptus Server. You can now choose the number of days you want to keep your Qalyptus Server log files.
If you choose to keep the files for 20 days, Qalyptus will delete the files that were more than 20 days ago. To keep all log files and delete them manually, enter 0 days.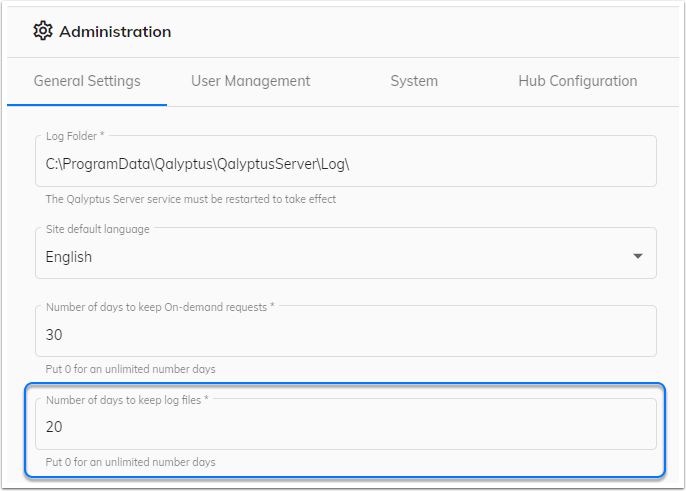 2- Choose an organization when creating a user
When you create a user, he is added to the default organization "Qalyptus" by default. Now you can choose the user organizations during the creation. The organizations a user belongs to can be changed in the user profile or organization settings.
This feature is only available in the Qalyptus Server Ultimate edition.
3- Improved modification of Qalyptus Server logs location
Before this release, when you change the location of Qalyptus Server logs, the destination is modified only for the logs generated for executing the tasks. Now the location of the logs of the application functioning is also changed.
Note that the Qalyptus Server service must be restarted to take effect.
4- Add the File name to the status page in Qalyptus On-demand and Qalyptus Self-Reporting
The final report name is now visible on the Qalyptus On-Demand and Qalyptus Self-Reporting status page. This information can be important because the report file name can be different for each execution if the report contains a dynamic name.
If, for example, the report's name is composed of a variable and you make selections before generating the report, Qalyptus will evaluate the variable to name the report. Each time you make a different selection, you may see a different filename.
5- Improvements and bug fixes
Three bugs are fixed:
Using a variable in the dynamic name of a report does not work well in some situations
Exporting an empty table may return an error and stop the process.
In Qalyptus Server, an error occurs when exporting a project in some cases.